Donna Sotiropoulos-Hast
 My passions are Argentine Tango, Music and Art.
One of my favorite artists is Guillermo Alio of La Boca which is in Buenos Aires, Argentina.
Most of my inspirations come from Mr. Alio and Argentine Tango.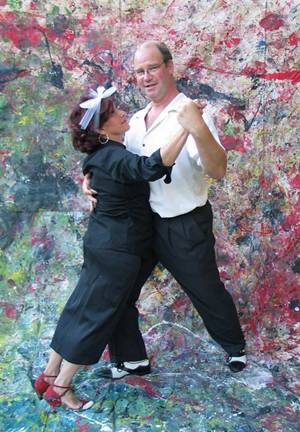 For me Argentine Tango is a way of life, a kind of Yoga.
I met my husband in Tango and together we have collaborated on a number of events regarding Argentine Tango and Art.
A lot of things can be seen in our art. Everyone has a different perspective and sees different things.
We dance tango on our canvases and then he finishes them off.
Some of my favorite artists are: Picasso, Rothko, Chemiakin, Pollock, Paul Klee, and many more of that genre.
We paint in Acrylic which gives us a lot of latitude.
Hope you enjoy our works.
We can be reached
e-mail     Donna@sfdonnamite.com     or phone  (650) 938-3261
web page   http://www.sfdonnamite.com/BlueLight